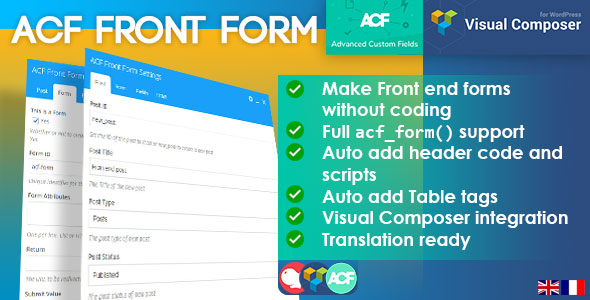 Assegwas Ameggaz 2970 promotion !
On the occasion of Amazigh new year 2970 and the new release of version 2.0, the price of the plugin is reduced by 30% from the 12th January to 12th February.
Description
Advanced Custom Fields is a powerfull plugin to create fields for posts or custom post types, but to make a form using Advanced Custom Fields you need to hook WordPress and make extra php coding.
With ACF Front Form you can make Front end Forms with Advanced Custom Fields using WPBakery Page Builder (formerly Visual Composer) or shortcode, without extra coding or hooking to use acf_form() function, just add a shortcode with all needed paramerters and your form is ready to use.
Main Features
Make Front end forms without coding
Full acf_form() function support
Adds required Advanced Custom Fields headers and scripts ( acf_form_head() and acf_enqueue_uploader() )
Use [acf_front_form] to call acf_form() function with all settings
Full Integration with WPBakery (formerly Visual Composer )
Whether or not to create all table, thead, tfoot, tr, td tags with given texts
Translation ready
Requirements
ACF Front Form uses functions of Advanced Custum Fields version 5.6.7
You can get the free version on GitHub
Documentation
Languages
Changelog
Version 1.1

    15-02-2018
    - Added post type listbox (new_post)
    - Added post status listbox (new_post)
    - Added post title textbox (new_post)
    - Added Checkboxes to select ACF Fields and Field Groups
    - Allow to use ACF version greater than 5.6.7
    - Some typo fix
    - license files moved into a folder

Version 1.0

    31-01-2018
    - Adds required Advanced Custom Fields headers and scripts ( acf_form_head(), acf_enqueue_uploader(), inline JS )
    - Use [acf_front_form] to call acf_form() function with all settings
    - Full Integration with Visual Composer
    - Whether or not to create all table, thead, tfoot, tr, td tags with given texts