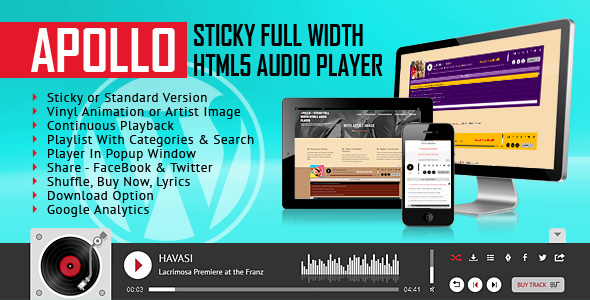 A fullwidth responsive HTML5 Audio Player WordPress plugin compatible with all major browsers and mobile devices. Artist image or vinyl record animation.
It supports .mp3 and .ogg audio files
IF YOU NEED ONLY THE JQUERY PLUGIN FOR THIS PRODUCT , YOU CAN DOWNLOAD IT FROM HERE : https://codecanyon.net/item/apollo-sticky-full-width-html5-audio-player/20127983
Installation – https://www.youtube.com/watch?v=EmlD9qwd0B0
How to use the plugin – https://www.youtube.com/watch?v=8qA3LlLxnPA
Once you've bought the product, you can download for free, from your account, all the updated versions.
Notes for IOS (restrictions imposed by Apple):
1. The autoplay will not work because IOS disables autoplay feature and it can't be controlled from JS
2. Volume controllers will not work on IOS. You'll have to adjust the volume with physical buttons of the mobile device.
Note for Safari & Chrome (restrictions imposed by Apple & Google):
Starting with Safari 11 and Chrome 66 the autoplay will not work because Apple & Google disabled autoplay feature and it can't be controlled from JS
Cookies Note:
This product uses cookies, so you should add on your website the cookie consent notification.