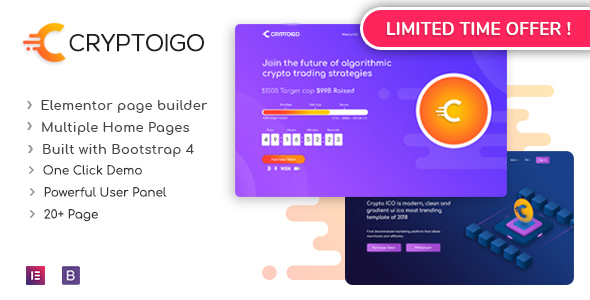 If you are also willing to be a part of changing the global economy then Crpytoigo is the best place for algorithmic trading strategies. Cryptoigo has some best offers like four unique landing pages, more than 20 inner pages, multiple home pages, powerful user panel, 3D animated graphics landing page but for a limited time only.
Cryptoigo is a specially designed Crypto Currency Website Landing Page Word Press Theme. This theme is a fully responsive, flexible, most powerful, clean, secure and complete solution for cryptocurrencies ICO startup. The Crypto Currency is the future of the global economy and if you want to be one step ahead of others and establish yourself in the Cryptocurrency market then it is the best platform for you.
Why Cryptoigo is special?
Today we have thousands of choices in the market for our every single requirement but are all of them have quality and quantity to fulfil your ICO requirements? This is the fundamental question. One simple answer for all your quarries is Crytoigo.
Only Crytoigo provides complete ICO (Initial Coin Offering) templates on the ThemeForest for the launching of your ICO.
Cryptoigo is specifically designed after analyzing each and every small aspect of ICO requirements. It provides you option of multiple home pages and more than 20 pages for the better presentation.
It is built with Bootstrap4 which makes it easy to use.
It can be easily accessible by all platforms like mobile phones, laptops, tablets, desktops, etc.
In Cryptoigo, you can get a demo just by one click.
Now the home page can have introductory video; if you are using this theme.
It provides unlimited page building options.
It has four different and unique styles for your landing pages.
Blog listing page, Blog detail page, Search Page, 404 Page are the special; features of the Cryptoigo which provide a very user-friendly environment for investors of various intelligence level.
Every crypto business entity and their ICO have different crowd sales process for various token sales. Crytoigo provides a one-click solution for required pages, process, functionalities & elements for every ICO business and provides different pages such as-
Dashboard,
Purchase Token,
Wallet,
Transactions,
FAQ,
Login history,
User profile,
Login,
Register
Crypto Currency-A CryptoCurrency is a virtual currency works as a medium of exchange. It uses the technique of cryptography to secure and verify transactions along with the creation of new units of a particular CryptoCurrency. In short, cryptocurrencies are limited entries of a database that no one can edit unless specific conditions are fulfilled.
Initial Coin Offering (ICO)
ICO is the CryptoCurrency space similar to an IPO ( Initial Public Offering) in the economic environment. Any company wants to create a new coin, app, or service introduces an ICO. Interested investors can purchase this offering. Investors will receive a new Crypto Currency token specific to the ICO in exchange. The company uses these ICO for various funding needs of their business. Generally, ICOs are used by start-ups or small entrepreneurs to escape the time consuming and hazardous capital-raising process required by well-known venture capitalists or banks.
Facilities that you will get only on Cryptiago-
Elementor page builder
Multiple home pages
Built with BootStrap4
One click Demo
Powerful user panel
20+ pages
Crypto Currency Website-
Times are changing, Global economy is changing, Business is changing, Customer behavior is changing, Purchasing styles are changing, payment modes are changing, Then don't you think the fundraising techniques should also change? If you are also planning for new start-up or expansion of business then the first and biggest requirement is the capital . Though you may have several sources of funding each has some limitations.
If you are also facing hurdles in fundraising then it is the best time take experts help through Cryptoigo and get best Initial Coin Offering (ICO) algorithms which enables you to attract potential customers quickly.
Before making any investment decision all of us analyze each and every small aspect very prudently compare it with peers and then make any investment. In short, If you want your client to invest in your idea then your website should be very attractive and trustworthy.
In the market you can encounter a large number of ready-made WordPress themes, you can build a website quickly without many efforts. But only the best platforms can provide you the desired results otherwise it would be a total waste of time, money and energy.
High-quality and trustworthy information in Crypto currency field has a lot of value. If you have an innovative idea that can attract the investors; then select a right Word Press theme like Cryptoigo and create your own website.
With the help of specialized tools of Crytoigo, customize the theme according to the need of your business project. The various features of Cryptoigo enable you to customize your idea and get the maximum output in the shortest time.
Some special features of Cryptoigo
The Cryptoigo provides 2 Unique ICO landing page which can get your potential buyers
Live Page builder (Elementor) is the unique feature of this platform.
Fully Responsive
Ripple & Particles effects
ICO token sale counter
Unlimited page building functions
Custom Themify & Font Awesome icon
Based on bootstrap 4.1 stable
Blog listing page
Blog detail page
Search Page
404 Page
Animated and non-animated page
Widget Ready
Translation Ready
Newsletter Ready
Smooth Scroll Animation
Contact Form 7 Ready
One page Navigation
W3C Valid HTML
Well Documented
Various graphics of Crytoigo to make your website impressive-
1. 3D Graphics.
2. SVG Graphics.
3. Mobile App Graphic.
4. Coin Graphic.
5. Chart Graphics.
6. Problem Ann solution graphic.
7. How it works graphic?
Four unique landing pages –
3D animated graphics landing page.
3D graphics landing page.
Counter landing page.
Intro video landing page.
Note: Images are for demo purpose only