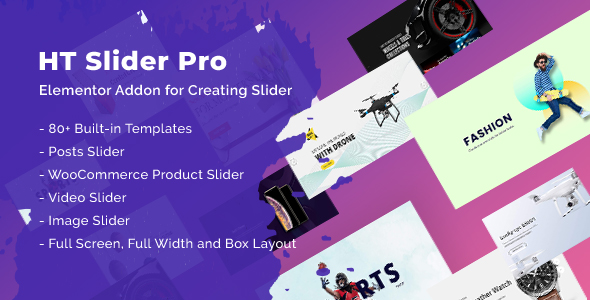 HT Slider Pro is a plugin to create a slider for WordPress websites easily using the Elementor page builder. 80+ prebuild slides/templates are included in this plugin. There is the option to create a post slider, WooCommerce product slider, Video slider, image slider, etc. Fullscreen, full width and box layout option are included. Free version of HT Slider is available on WordPress.org
Slider Templates
1.Animal Slider One
2.Animal Slider Two
3.Animal Slider Three
4.Animal Slider Four
5.Book Slider One
6.Book Slider Two
7.Book Slider Three
8.Car & Motors Slider One
9.Car & Motors Slider Two
10.Cosmetic Slider One
11.Cosmetic Slider Two
12.Fashion Slider One
13.Fashion Slider Two
14.Fashion Slider Three
15.Fashion Slider Four
16.Fashion Slider Five
17.Fashion Slider Six
18.Fashion Slider Seven
19.Fashion Slider Eight
20.Fashion Slider Nine
21.Fashion Slider Ten
22.Fashion Slider Eleven
23.Fashion Slider Twelve
24.Fashion Slider Thirteen
25.Fashion Slider Fourteen
26.Fashion Slider Fifteen
27.Fashion Slider Sixteen
28.Fashion Slider Seventeen
29.Fashion Slider Eighteen
30.Fashion Slider Nineteen
31.Flower Slider One
32.Flower Slider Two
33.Food Slider One
34.Fruits Slider One
35.Fruits Slider Two
36.Furniture Slider One
37.Furniture Slider Two
38.Furniture Slider Three
39.Furniture Slider Four
40.Furniture Slider Five
41.Furniture Slider Six
42.Furniture Slider Seven
43.Furniture Slider Eight
44.Furniture Slider Nine
45.Furniture Slider Ten
46.Electronic Slider One
47.Electronic Slider Two
48.Electronic Slider Three
49.Electronic Slider Four
50.Electronic Slider Five
51.Electronic Slider Six
52.Electronic Slider Seven
53.Handmade Slider one
54.Handmade Slider Two
55.Jewelry Slider one
56.Jewelry Slider Two
57.Jewelry Slider Three
58.Jewelry Slider Four
59.Kids Slider one
60.Kitchen Slider one
61.Kitchen Slider Two
62.Kitchen Slider Three
63.Maternity Slider one
64.Maternity Slider Two
65.Matcha Slider One
66.Matcha Slider Two
67.Perfume Slider one
68.Nursery Slider one
69.Helth Slider one
70.Minimal Slider one
71.Minimal Slider Two
72.Minimal Slider Three
73.Sports Slider one
74.Sports Slider Two
75.Sports Slider Three
76.Watch Slider one
77.Watch Slider Two
78.Watch Slider Three
79.Tools Slider one
80.Tools Slider Two
Features:
Create Slides using Elementors Drag n Drop Addons.
Custom Styling Options
Show by id and category wise.
Mobile and Tablet display options.
Slider Navigation and paginations custom design options.
Slider Navigation on/off Option.
Slider Pagination on/off Option.
Slider Autoplay on/off Option.
Do You Need More Features?
Live Chat: PreSale Question (9am-6pm; UTC +6)
Support
Feel free to contact us any time. We have a dedicated team to provide you the best support.
Create A Ticket here if you need any support for the item purchased.
Have a question? Need clarification? Feel free to Contact Us if you have a pre-sale question