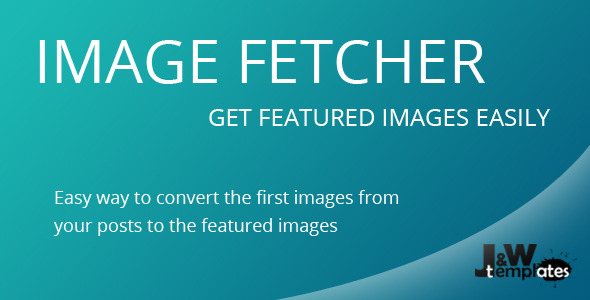 Image Fetcher is a simple plugin that automatically search and converts first images as featured of published posts easily and quickly!
Are you tired of manual setting first images as featured?
For instance, you have lots of published posts with lots of content and lots of images but you did not set featured. So you will have to manually edit posts one by one and set images as featured. Yeah, it's very boring but actually using our Image Fetcher plugin it will be fun
Option Automatically Set to Featured is very handy if you do not want to add featured manually when you creating a post. Basically when you publish your post, it will search and find first image and automatically set that first image as featured of your post  So you do not have to run fetching options everytime. Simple and handy.
Features
Automatically set first images as featured of all published posts
4 options

Automatically Set to Featured – after publishing or updating a post (if you do not want to use convert first images as featured of all published posts every time)
Leave External Links – exclude external images and find the closest local images of published posts
Leave Image Size Less Then 100px – exclude all images that are less then 100px height or weight
Remove Image Tags – set first found image as featured and then removes that image of post content

Backup System – You can backup or restore important DB tables
Posts stats
Converting stats
Easy to use – just one click!
User-friendly interface
Fully tested on WP4.5
Clean code
Documentation and Support