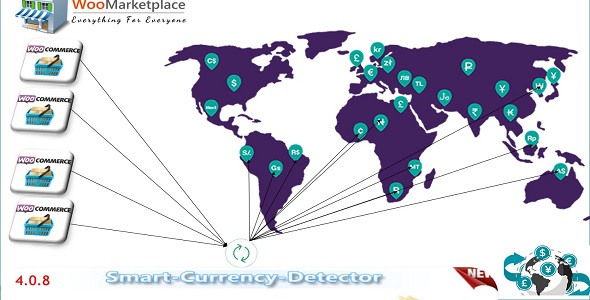 Smart-currency-detector Multivendors variant
Experience simply the best, cheapest currency detection, conversion and payment plugin.
Short description
Smart currency detector enables multiple currencies payment and automatically updates the exchange rate.
It's the only currency converter plugin on the market compatible with Dokan, WC Vendors, WCFM Marketplace and WC Marketplace.
Download our plugin and increase your revenues by selling Worldwide.
HOW IT WORKS
EASY TO CONFIGURE INTERFACE
The interface can be configured either in manual or automatic mode.

AUTOMATIC UPDATE OF THE EXCHANGE RATE

Automatically update the exchange rate : You can set Set intervals for automatic currencies updates in minutes, hours
or days. You can decide to disable the foreign currencies payment. When disabled, the default currency is displayed.

COMPATIBLE WITH MANY WOO COMMERCE MULTI VENDOR MARKETPLACES
Dokan, WC Vendors, WCFM MarketPlace and WC MarketPlace
Setting up The price to your convenience.
Our plugin provides you a general setting tab that rounds up the
resulting foreign currency price to your convenience. It avoids several digits after comma while showing your products prices and let you make additional money out of approximations.
WHY DO YOU NEED CURRENCY CONVERSION ?
| | |
| --- | --- |
| | text being edited. |
MANY PAYMENT GATEWAYS SUPPORTED
| | |
| --- | --- |
| we support many payment gateways like payumoney, PayPal, paypal plus, visa, mastercard, direct transfer, bitcoin (soon), google pay (soon), apple pay (soon) Stripe (soon). | |
SET UP YOUR OWN CURRENCY RATE AND MAKE MONEY
| | |
| --- | --- |
| | text being edited. |
CURRENCY SWITCHER END2END
Multi language support:
our plugin supports several languages and the list is steadily increasing.

Manual/ Automatic.
COMPATIBLE WITH MARKET PLACES
| | |
| --- | --- |
| | text being edited. |
WORKS OFFLINE
| | |
| --- | --- |
| 100% Conversion guarantee | |
MANUAL SETTING OPTION
You can basically for each currency, set a manual or get an automatic rate, set the look & feel, apply a percent based
price increase.The administrator by selecting which default currency should be displayed to end users calling his
platform, can enable the fact that, if a seller has no price to this specific currency, then the sellers default currency and
price are shown to end users.
WEBPAGE DISPLAY CURRENCY
Select which fix products currency should be displayed to your customers.
If you choose "Auto detection" the right display currency and values are automatically detected according to the users location. E.g. a customer located in the USA has the products displayed in USD.
The one located in France has the same products displayed in EUR.
FILTER USERS CURRENCY CHOICE
Filter which currencies the end user is enabled to manually select for display, using the related widget in your target webpage.
Selecting "All" means that he can choose every currency.
MULTI ROLE SETTING OPTION
The platform administrator defines for each specific user/role a number of foreign currencies this one is allowed to use while selling his products.
The administrator by selecting which default currency should be displayed to end users calling his platform, can enable the fact that, if a seller has no price to this specific currency, then the sellers default currency and price are shown to end users.
LIVE CUSTOMERS SUPPORT
Listening 24 hours a day, 7 days a week.
END USERS WIDGET
Using the end users widget the end user can manually select in which currency he wants to see the prices and buy the different products.
Click on this link to learn more about our products.
COMPATIBILITY
WC Vendors
WCFM (WooCommerce Frontend Manager )
DOKAN
WooCommerce Market Place
WCAuctionsPro,
WooCommerce ProductVendors;
PayPal
PayUMoney.
All themes (for example SHOP2GO ).
QUICK SUPPORT
On any days, we provide 8 hours turnaround time to reply every query, even in our busiest schedule.
All you need to do is to reach us either via our support forum
or WordPress.org.
FREE VS PREMIUM VERSION
The Free version have only one module and is available here
GENERAL SETTINGS Overview
END USERS WIDGET Overview
The premium version contain following additional modules and is available here
CURRENCIES SETTINGS Overview
MULTI USERS/ROLES SETTINGS – Overview
WC VENDORS EXTENSION
DOKAN EXTENSION
WCFM EXTENSION
WCAuctionsPro EXTENSION
WooCommerce Product Vendors EXTENSION
PayPal EXTENSION
PayUMoney EXTENSION – (SOON)
Videos
Presentation
How to use SCD (Smart Currency Detector) with WC VENDORS
How to use SCD with DOKAN Pro
FEATURES List
Specify the number of usable currencies for your different roles
Set a specific products price for each given currency
Round up the converted price to your convenience
Automatic target currency detection, depending on end users Location
Manual target currency selection, done by end users in your Website
Customize foreign currencies names, Formats, symbols, signs, brands
Users to roles settings and restrictions
Approximate the products price
Enable the payment with several currencies
Allow to auto update exchange rate
Exchange rates are fetched from Yahoo Finance So they are always updated
Set time to update Exchange rates
Set the position for each currency
Format / rename your currencies
Set your preferred currency target (e.g. autodetect)
End users widget
Allow to add a decimal number
Set the number of decimal
Enable/disable price by currency
Appropriate for multi vendor sites (e.g. WC Vendors, Dokan)
Simplified the products creations UI for multiple currencies
Mobile friendly
Replace Original Price
Translations
Supports all modern browsers
Multi-base currencies
Set user currency (for wc-vendors user)
Paypal gateway
PayUMoney gateway – (soon)
FEEDBACK
We take feedback very seriously and react accordingly!
Feel free to do it either via our websites feedback page or via our WordPress page, thank you.
Really proud to serve and enhance WooCommerce, Dokan, WC Vendors, WCFM, PayPal, PayUMoney, WC Auctions Pro, WooCommerce Product Vendors.