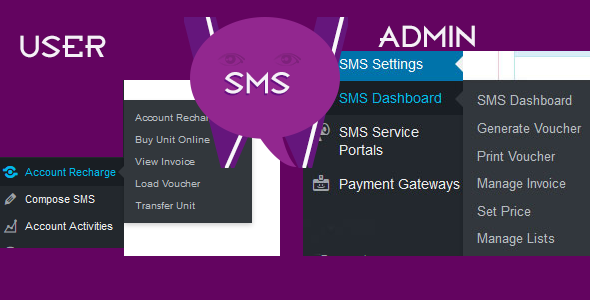 SMS Hub of WordPress, Sell, Share & Send SMS.
SMSPress is a wordpress plugin that allows you to sell, share and send SMS to mobile phones from your wordpress blog/website. It supports both single and bulk SMS (text message). You can run SMS campaign, send invitations, meeting notice,product advert, etc to a large pull of mobile phone numbers and, or also run this as a service to your blog visitors/users. Users can purchase SMS Unit from you, online using any of the payment options listed below or via your Voucher and run their own SMS campaign. Users can resell their unit via SMS Transfer to other users
Features
Payment Options:
SMSPress supports five payment options (and counting). With multiple payment options integrated, SMSPress has more than what is required to start reselling your SMS service in 5 minutes.
Supported payment options, includes
Paypal
Stripe Checkout
Voguepay
GTPay
Bank Deposit
PayStack
IPay Africa
Lipa na MPESA
More payment options on the way
Multiple SMS Services Provider
SMSPress is not limited to one SMS Service Provide, You can choose any of the available SMS provider already available in SMSPress or request for new provide to be added, in this case the new provider will added within 48hrs. Twilio SMS Messaging Portal is supported
Compose SMS Interface
User friendly SMS Compose interface with instant character counter, number counter and price checker; Mobile friendly interface, and support for all mobile devices and screen sizes.
Printable Voucher

SMSPress supports SMS Voucher generation, printing and sales: You can resell SMS Units as printable vouchers, this feature, makes it easy to resell SMS services in CAMPUS, internet Café, and any other offline shops.
Unit Transfer
Transfer unit from one user to another with a unique security pin
Sort Numbers
Sort numbers before sending message, If you have non-comma separated number, you can sort it with number playground, available in SMSPress.
Remove Duplicate numbers via number playground.
Many more
Demo Link
smspress.deparagon.com
Login: smspress.deparagon.com
FORE ADMIN:
username: admin
password: admin
FOR USER:

username: demo
password:demo
Change Log 1.4
Stripe Checkout payment added
Infobip SMS Messaging Services portal Added
Create and Manage contact list feature now available to all users.
Populate Contact list from CSV file.
Send SMS to CSV Contacts.
Change Log 1.3
Allow/Disallow access to wordpress dashboard
Redirect Non-Admin users to a page after login
Redirect Non-Admin users to home page when they try to access admin pages.
All user level access pages automatically created during plugin activation or re-activation
User SMS Unit Balance Widget
Subscribe to list Widget
Added SMS List / Contact Group
Easily create List/contact group
Edit contact group
Send message to contact group
subscribe users to contact group
Change log 1.6
Removed front pages from wordpress backend
Added Custom user Login /registration addon plugin (paragon-profile)
Added SMSAPI.COM SMS Messaging provider.
Reward Fresh registrants with SMS Units (enable/disable this feature)
Sends Each SMS as Single Message, With delivery Report.
Added SMS Status in Sent SMS Log.
Added Internationalization.
Enabled Paypal for all currency
Change log 1.7 – 2.0
Added CmTelecom SMS Provider
Added African Talking SMS Provider
Updated directory structure for assets
Added EstoreSMS SMS Provider
Added GBN Mobile SMS Provider
Added OvhTelecom SMS Provider.
Applied Fixes
Change log 2.1
Added paystack payment gateway
Added IpayAfrica payment gateway
Added Optional Restricted Sender Name
Added Optional API for Balance Check & SMS
Refactored and Optimized Account recharge page and payment gateways
Added Send as SMS, which allows registered users to send wordpress post as sms
[ad_2]
Source: Codecanyon