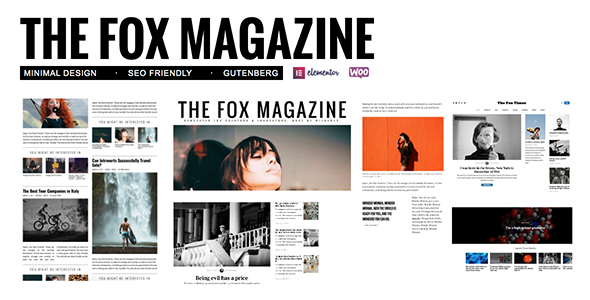 Fox Magazine is a super fast & highly customizable news and blog WordPress theme. It's mobile optimized and SEO friendly with medium-like lazy load technique, all queries are combined, CSS & Javascript files minified.
DEMOS: Fox Times (New York Times) | Fox Classic | Fox Science | Fox Fashion (Elle)
Building a blog or news site is simple while Fox comes with Elementor – 100% frontend, intuitive drag and drop page builder trusted by more than 2 millions of WordPress sites.
If you like blogging, Fox is great: 100% compatibility with WordPress 5.0 and Gutenberg Editor. It also supports YouTube videos, Facebook, Twitter & Instagram embed in post. You'll love Fox's minimalism in design and modern typography style.
Fox is suitable for travel blog, lifestyle magazine, cooking/recipes blog, fashion, politics, science, arts and photoblog. The product is updated constantly to bring new and new features. We offer top-notch support and friendly help.
If you are a beginner to WordPress, Fox is suitable for you with One-Click installation you have a blog 100% same as demo within minutes.
Fox is fully compatible with WordPress 5.0, Gutenberg, Elementor, WooCommerce.
FOX REVIEWS
HOW PEOPLE USE THE FOX?
FULL FEATURE LIST
WordPress 4.9, 5.0, 5.1, 5.2 & Gutenberg editor compatible
Fox is always update to date and will be compatible with future WordPress versions. We also support Classic Editor for those who doesn't like the new editor.
Mobile Friendly
While mobile is an inevitable and trending, Fox is serious with mobile version.
Beautiful Off Canvas-menu:  Look like Facebook, Nytimes with custom mobile menu. You can select mobile menu items different from desktop version.
Responsive Banner Ad: You can upload different images for desktop, tablet and phone.
Responsive Typography: You can set different font size for different devices. Each element: logo, body text, heading, navigation, blog post title, single post title, post meta etc.
Responsive Images: All images use srcset, mobile version always loads images with appropriate sizes that lighter than desktop so it's faster.
Lazy Load: built-in lazy load helps your site loading faster significantly.
Retina-ready: Fox uses icon font for everything so it looks sharp even on iPhone X with 3x zoom or any retina device.
Upload custom mobile logo: Since Fox 4.0, you can upload mobile version of your site logo. By default, it's text logo that's very light-weight.
Predefined Demos
Fox Classic – suitable for Politics | Photoblog | Food | Old Newspaper
Fox Times – suitable for Politics | Lifestyle | Travel | Cooking | Books | Writer | Arts | Business | Commentary | Opinion or if you want to build a site like NyTimes (New York Times) or Newyorker.
Fox Science – suitable for Maths | Physics | Chemistry | Biology | Medical | Space | Health | Environment | Nature | Human | AI | Tech
Fox Fashion – suitable for Fashion | Beauty | Cosmetics | Celebrity | Love | Lifestyle | Girls | Horoscope | Feminine
If you are brand new to WordPress and wanna set up a site quickly? Fox comes with one-click installation. It imports all content, images, menu, customization, widgets.. so that your site looks 100% same as demo.
GDPR compliant
Fox  or none of our WordPress themes or plugins collect any kind of personal data, like email, name or IP addresses.
Elementor – Frontend Drag and Drop Page Builder
Elementor is a free page builder has powered more than 2 millions of WordPress sites. Fox integrates Elementor as main page builder to build home page. It's flexible, up to date, clean and has a long-term developing team behind.
Fox comes with extra Elementor addons:
Post Standard Layout
Post Newspaper Layout
Post Grid Layout
Post Masonry (Pinterest-like) Layout
Post List Layout
Post Vertical Layout
Post Big Layout
Post Slider Layout
Post Group 1 (2 columns)
Post Group 2 (3 columns)
Heading
Author Grid/List
Button
Responsive Ad
Instagram Feed
Blog Post Layout
Fox contains a lot of blog post layouts, each has a lot of option so that you can customize each block for your need. Here are few common options:
Number of posts to show
Order: By date, view count (most popular posts), comment count, post title, random
Order by: ascending or descending
Only from some categories
Exclude some categories
Specify posts by IDs.
Exclude some post IDs
Specify post author.
Only featured posts (you can choose a post to be featured)
Column layout (1, 2, 3, 4) for grid, masonry posts
Item spacing
Thumbnail size
Item align
Items order: title > meta or meta > title etc
Title size, weight and title tag (for SEO)
Show/Hide every component.
Unique Articles
Since 4.0, you can enable unique article feature for each building section. It means a post won't appear twice in your page builder, so your visitors only see non-duplicated posts.
SEO Friendly
Fox is optimized for mobile, it's definitely good for SEO.
It's fast and built-in lazy-load this is absolutely good for SEO.
Text Logo: Fox is a text logo WP theme, it's good for SEO.
Theme is semantic in schema.org standard: article, header, footer, heading etc.
Coded with latest HTML5 & CSS3 technique.
All headings H1, H2, H3 are well-organized.
CSS, JS files are minified to improve site speed.
All Google Fonts are combined into single-call to load, and only necessary font weights are loaded.
WooCommerce Ready
Fox is WooCommerce 3.6+ ready. You can build an online shop within WordPress platform by using Fox + WooCommerce.
Multilingual Theme
Fox contains pot file in languages directory, that allows you to translate this theme into your own language. You can use a plugin like Loco Translate or TranslatePress to translate your theme fully.
Quick Translation: Fox also comes with a quick translation opiton that allows you to translate visual words quickly right within theme options panel.
WPML compatible: Build multilingual-ready site with WPML.
Customizable WordPress Theme
Fox comes with Live Customizer including 300+ theme options, allows you to control over your site perfectly.
Content Width: Feel free to enter your preferred content width from 940px – 1200px wide. You can also specify sidebar width.
Site Layout: Wide or Boxed Layout. For boxed layout, you can set border, margin, padding, background color, background image or pattern.
Show/Hide everything: You can show/hide almost everything in theme: header, footer, title, thumbnail, category, date, author, excerpt, social share, related items etc. Many stuffs can be controled for each individual post / page.
Total Typography Control
Fox contains 3 primary font positions: body font, heading font and navigation font. For each position, you can choose to use system font (Helvetica, Georgia..), Google Font or upload your own font (woff2 and woff files).
For other elements (post title, content, widget title, post meta, button, input form etc), you can select either font from those primary positions or enter your own custom font.
Each Google font, you can select only font weights you need to load to improve loading speed. We have full options for languages: Latin, Latin Extended, Greek, Greek Extended, Cyrillic, Cyrillic Extended, Vietnamese.
Each element, you can control font size, font size on tablet and mobile, font weight, font style, letter spacing, line-height, text transform, color, link hover text decoration.
Here's the list of typography elements you can control:
Body font
Heading font
Navigation first level
Navigation dropdown
Logo font
Off-canvas mobile menu
Archive title font
Blog post title
Blog post meta
Standalone category (above post title)
Single post title
Single post content
Single label heading
Widget title
Elementor heading addon
Button
Form input
Blockquote
Autoload Next Post
This increases the pageviews on your WordPress site as readers continue reading after finishing a post. This is a feature like qz.com or elle.com
Here's an example. Note: it loads only 1 post for sample. When you enable it in your site, it loads infinitely.
Ton of Widgets
Fox comes with ton of built-in widgets:
About widget
Responsive Ad (Banner or custom Adsense Code)
Author List
Button
Copyright
Header, Footer Logo
Instagram Grid
Facebook Like Box
Pinterest Feed
Social List
Mailchimp Form For WP (compatible)
Ads System
Fox has a lot of ad spots you can use responsive banner ad or enter your own ad code, say Adsense. Here're spots you can insert your ads:
Before Header
Main Header
After Header
Main Sidebar
4 Footer Columns
Footer Bottom
Before single post content
After single post content
In a page by using page builder ad element.
Social Share
Fox integrates share icons from popular social sites: Facebook, Messenger (new and exclusive), Twitter, Pinterest, LinkedIn, Whatsapp, Reddit, Email.
Online Documentation
Fox offers online documentation you can access quick & easy.
Updates & Support
Once purchased, you have LIFE TIME updates. Update can be done automatically within single-click by using Envato Market plugin.
We offer great support & friendly help at withemes.ticksy.com